Meet our team
Dr Serge Ziouzgin - Dental Surgeon, Principal Dentist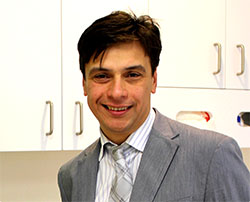 Dr Serge completed his degree in 1994 and has more than 24 years of experience in all aspects of dentistry. He has a role of clinical demonstrator and supervisor of clinical dentistry to the dental students at Melbourne University, a current member of the Australian Dental Association (ADA). He is a Principal dentist of our clinic and specializes in Oral Surgery, Dental Implants, Endodontics and General and Cosmetic Dentistry. "I am a committed believer in high quality treatments and holistic approach in dentistry, enjoy a streamlined process and predictable results" - Dr Serge. Very much loved by his patients for his easy sense of humour, gentle touch and attention to detail.
Miss Margaret Donoghue Dental assistant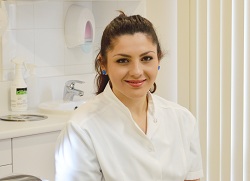 Margaret assists Dr. Serge chairside. She is very good at her job and goes the extra mile to make sure our patients are comfortable and happy. Her personal and upbeat attitude, makes a patient's dental experience enjoyable!
She enjoy working with children and create a positive fun experience and visit for them. Margaret likes to spend time with her friends and family, and she loves to travel so she can explore new and exciting places.
Ms Victoria Kanana Receptionist & Office Manager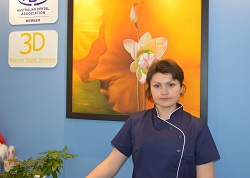 Victoria our Dental Receptionist is quite often, the first voice you hear when you call our office. Victoria is very happy to assist you with your scheduling needs and with any questions you may have regarding your treatment. She has 9 years of reception experience. We appreciate her positive attitude and her attention to detail. Victoria has a wide range of knowledge in dental insurance and can easily aid patients with all of their insurance questions. She is happy to assist patients with their treatment plans including scheduling, financial arrangements, and dental insurance coverage.